We Level Up behavioral health network Continues Growth
The We Level Up behavioral health centers network continues its national expansion with the addition of new medical treatment center locations. Just this month we've opened our 4th treatment center location at 276 Bakers Basin Rd, Lawrenceville NJ 08648.
"Meeting the need for local treatment in underserved communities and expanding services to include robust dual diagnosis mental health therapy programs has been a top priority". Stated Ryan Zofay, creator of the We Level Up Development Series.
Treatment services are tailored to the unique needs of individual patients addressing the entirety of their behavioral disorders. The newest New Jersey treatment center is licensed by the state of New Jersey and complements the three existing licensed Florida behavioral health centers under management.
Each treatment center's medical specialists have been trained to meet the high demand and high-stress protocols required to improve patients' recovery outcomes. At the epicenter of the rehabilitation treatment programs are features designed to make therapy easier to access. To start, inpatient rehab patients are directed to affordable program options. Thereafter, insurance benefits are estimated and billing options are presented to patients and their families. Inpatient rehabilitation and mental health services are covered by insurance and include physician-directed care, twenty-four nursing to residential and inpatient care.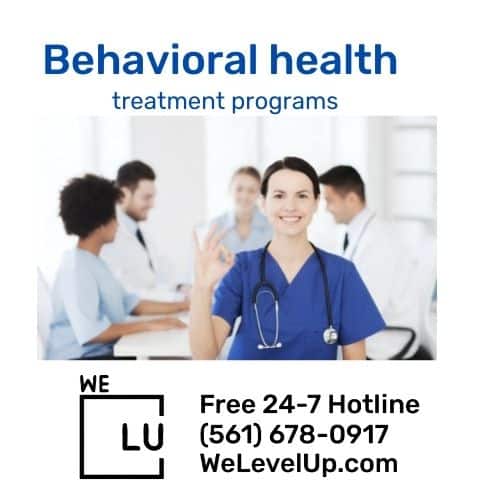 We Level Up existing behavioral health centers' network
The company's existing behavioral centers are already servicing South Florida rehab patients. With the brand's northeast New Jersey rehab center, is now a nearby destination for behavioral center patients. Those traveling from the tri-state area and beyond including NY, NJ, CT plus PA, and MA will find the facility to be a comfortable drive.

We Level Up's behavioral health centers locations include:
We Level Up's behavioral health centers coming soon locations are to include:
5. We Level Up California behavioral health center
6. We Level Up Washington behavioral health center
We Level Up's behavioral health centers supporting offices for alumni, family and personal development include:
7. We Level Up Deerfield Beach behavioral health center supporting office
8. We Level Up Boca Raton behavioral health center supporting office
Innovative behavioral health centers treatment programs
Treatment teams create and deliver smart, innovative care for substance use disorder. Aways monitoring recovery progression for clients. Together, we strive to help more individuals safely cross from hopelessness to a fulfilling life after their recovery. Supporting patients and their families with education, therapy, and activities to foster lasting coping and refusal skills enhancing long-term recovery results. Applying intelligent data gathering and smart evidence-based treatment along with alumni support after patients leave is paving the way to sustained sobriety.
The mission to "reclaim lives, unite families while at the same time strengthening local communities" aligns perfectly with the mission and values of "breaking through to renewed lives with purpose, passion, and proven techniques to sustain recovery success". The goal to ensure a continuity of care while providing continuous training for company employees helps achieve this goal," said Adam Roth, CMO, We Level Up treatment centers.

"The growth into new modern and improved rehabilitation centers is a perfect fit with the management team's long-term growth strategy for improving patient care experience. The growth of new facilities enhances the innovative and differentiated recovery services and broadens the company's ability to help more individuals overcome serious behavioral health problems.
WeLevelUp multiple behavioral health centers inpatient treatment programs
The WeLevelUp behavioral health network operates multiple inpatient, same-day admitting facilities, providing urgent intensive medical detox, with extended twenty-four hours of care. The company attributes its great success due to the application of evidence-based modalities and patient-first hospitality. Underlying the recovery success efforts is the ability to deliver a differentiated healthcare choice by providing fast, high-quality, timely, and affordable life-threatening substance abuse disorders treatment programs.
The behavioral treatment centers' state-of-the-art facilities are open 24 hours a day, 7 days a week, 365 days a year – including every holiday. All centers are staffed with on-site, licensed, and credentialed physicians, nurses, and therapists. They are supported by friendly medical, family, and alumni teams. Most major types of health insurance are accepted – including Aetna, Cigna, United Healthcare, Blue Cross / Blue Shield, Humana, Work Insurance, and many others. An affordable monthly plan may be available. Call to learn more.
Comprehensive behavioral health centers services
LevelUp centers provide a wide spectrum of comprehensive medical services including, but not limited to, treating alcohol detox, opiates detox to continued rehab, and dual diagnosis treatment required once the first initial phase of treatment is complete. Instead of waiting days for routine insurance verification and medical assessments, WeLevelUp patients can expect convenient, friendly, fast, and affordable recovery treatment in a safe and private environment.
LevelUp addiction centers are in the process of expanding and opening several new centers throughout the United States. The company is seeking to hire talented therapists, case managers, behavioral techs, and nurses. Please visit our website at WeLevelUpNJ.com for job openings.
For maps, locations, and more detailed information about current and future behavioral health centers; visit us online.